Other Events
The 22nd BDK symposium The new biography of Sakyamuni Buddha 
The 22nd BDK symposium  
The new biography of Sakyamuni Buddha 
-The world's first study revealing the Buddha's whole life
What was Shakyamuni like?
How was his sangha born?
What is the beginning of Buddhism?
A research team of "A Study of the Biography of Sakyamuni Based on the Early Buddhist Scriptural Sources" had studied for 28 years, and traced the life of the historical Buddha.
In the 22nd BDK symposium, Dr. Mori Shoji, the research team leader, will talk about the results of his study.
Shōji MORI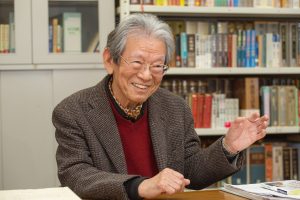 Emeritus Professor, Tōyō University, Tokyo; Lecturer, Chūō Academic Research Institute. Born in Mie Prefecture in 1938. Graduated from the Buddhist Studies Department, Faculty of Letters, Tōyō University. Litt.D. Tōyō University (Buddhist Studies).
Selected publications: Genshi Bukkyō kara Abidatsuma e no Bukkyō kyōri no kenkyū (A study of Buddhist Doctrines from Early Buddhism to the Abhidhamma Buddhism). Tokyo: Tōkyōdō shuppan, 1995. Bukkyōteki mono no mikata – Bukkyō no genten o saguru (The Buddhist vision – Seeking the origins of Buddhism). Tokyo: Kokusho Kankōkai, 2001.
Date   Saturday, September 12, 2020
Time   13:00-15:00 1pm-3pm
Place   8th floor, Bukkyo Dendo Center Building (4-3-14, Shiba, Minato-ku, Tokyo)
Capacity  80 people
Participation fee  JPY 1,000
Application   e-mail
Please send name, address, phone-number and e-mail address to event@bdk.or.jp
*This symposium is only in Japanese.
For preventing infection of COVID-19, BDK symposium takes some measures as bellow;
Taking participants' body temperature with non-contact thermometer.
Preparing hand sanitizer for participants.
Keeping windows opened for ventilation.
Requiring participants and BDK staffs to wear mask.
---